Archive for June, 2014|Monthly archive page
In
illustration
,
musings
,
personal
,
work
on
30/06/2014
at
13:50
Things are progressing nicely. A bigger picture is emerging, even.
Check em out at the Stealth Sketch-tumblr.
See anyone you know?
In
fun
,
music
,
musings
on
05/06/2014
at
19:03
I consider myself a fairly content guy, but there are times when my heart sinks with deep melancholy. I am of course talking about the fact that there are people in the world who have never heard The Velvet Underground.
I won't go on about the band, as I'm sure you are all familiar with them. As you should.
But there are pockets of humanity out there, ENTIRELY UNFAMILIAR with the oeuvre of New York's sleazy garage poets. Now that's a damn crime.
I suggest a missionary crusade to rectify this. Hordes of missionaries will be equipped with boomboxes and airlifted into the most remote corners of the world. Missionaries will go from door to door with the familiar refrain: 'Good afternoon. Have you heard of The Velvet Underground? May we come in for a minute and talk to you about White Light White Heat?'
Once we have covered the world and given this gift upon humanity, we'll start with the Talking Heads.
In
comics
,
musings
,
politics
on
04/06/2014
at
18:04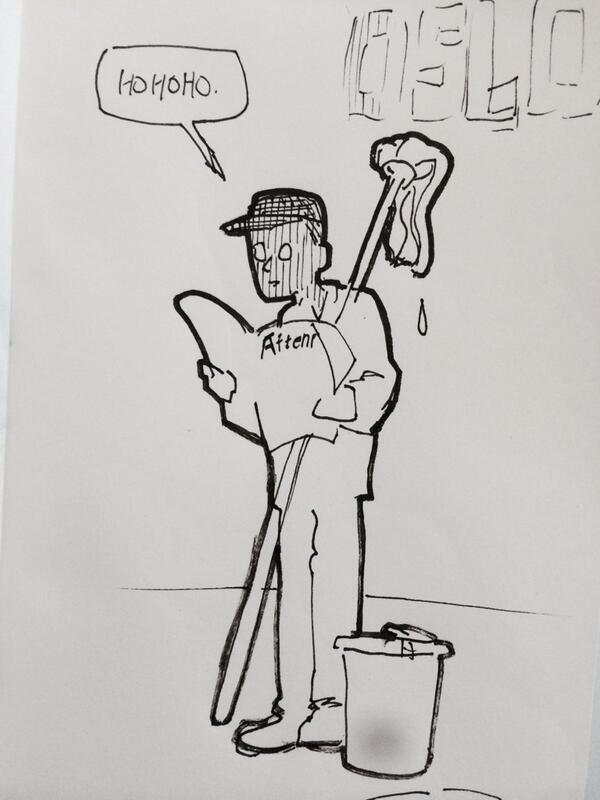 Og der hadde vi enda en gang en offentlig rasismedebatt i gang.
Denne gangen er det stripa "Skarpe Kanter" som begår denne negervitsen.
Reaksjonene lot ikke vente på seg.
«Frejdig klassisk rasism på seriesidan i dagens Aftenposten»
«Hva skjer, @Aftenposten. Dette er ikke greit»
«Dagens #norskrasisme fra @Aftenposten ser ut som en tegneserie fra for veldig lenge siden»
Aftenposten beklaget publiseringen av stripa. Noe som er helt på sin plass.
Manusforfatter Vebjørn Verlo forsvarer seg:
– Hadde jeg gjort noe på østeuropeiske stereotypier ville neppe noen reagert, og jeg har vitset masse med katolisismen. Men med en gang det er hudfarge inne i bildet, kommer reaksjonene, sier han.
I og med at jeg har litt erfaring ifra å lage satiriske tegneserier med lissomvitenskapelig vinkel, slenger jeg likesågreit ut mine to europeiske cent:
Fyren blander mange ting sammen her. Polakkvitser er like døvt. Katolisisme er lettere, fordi det presenterer et verdisyn man kan kritisere. Såvidt meg bekjent er ikke Afrika et land. Å kritisere folk for at de er født en plass er ikke noe særlig.
Tror det er en del afrikanske menn som jobber ræva av seg i lavinntektsyrker som er uenige i poenget at afrikanske menn er slabbedasker.
Hovedproblemet er at vitsen ikke er morsom. Er greia bare at 'afrikanere' er late slabbedasker som snylter på kona? Det er ikke dumt å tenke på at det faktisk er vi som er makthaverne i Norge. Samfunnet ser veldig anderledes ut for en mørkhudet innflytter enn for en rotnorsk serieforfatter som vil være litt provo. Ikke en dum ting å ha i bakhodet når man setter seg foran skrivebordet.
Det er ikke spesielt vanskelig å problematisere rasisme via humor, men jeg lurer bare på hvilket publikum denne stripa er tiltenkt. Verlo burde se litt på sine nye venner og kanskje innrømme at det var ræva håndverk han begikk der. Å ta på seg ytringsfrihetsmartyrhatten hver gang noen kritiserer deg er synonymt med meget brune vinder nå for tiden. Ytringsfrihet betyr ikke kritikkfritak.
Det som er trist, er at vi har sett dette før og vi vet hvordan det vil ende. Kritikerne av stripen vil bli utdømt som snevre, humørløse og fordømmende av 'mannen i gata', hvem nå enn det er.
Til sist blir det en metadebatt om ytringsfrihet og vi er jo alle enige om at vi skal kunne ytre oss fritt her i landet. Så blir pressen nervøs, fordi de blir utdømt som sensurinstans av kommentariattrauet. Så slipper de til en eller annen rallende gærning som Hanne Nabintu Herland, Hans Rustad eller Fjordman, for å vise at de jammenmeg ikke er noen snerpete PK-elitister.
Så er det slutt, rasistene får siste ordet og vi kan alle ta hverandre i hånden på at vi lever i et fritt samfunn. Som som vanlig er, har blitt mye mye friere for rasistene og kanskje litt mer ufritt for målene til den såkalte satiren.